Strip, foil made of titanium grade 7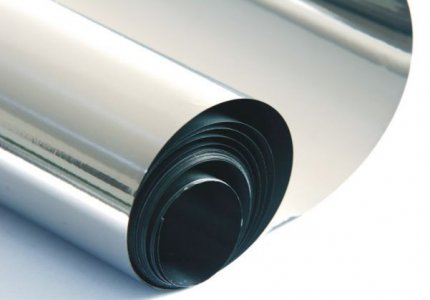 Technical characteristics
A composition of titanium grade 7 has 0.1% of palladium. If to add palladium, metal assumes a high resistance in aggressive environment, where the main problem is a corrosion. Alloy is used in chemical industry, in manufacture of equipment components. High strength-to-density ratio, light weight, resistance to high temperatures are essential in such spheres.
It is well welded with other metals. So it is widely used for a manufacture of welded equipment.
Percentage composition
| | | | | | | |
| --- | --- | --- | --- | --- | --- | --- |
| O | N | C | H | Fe | Pd | Ti |
| ≤0,25 | ≤0.03 | ≤0,08 | ≤0.015 | ≤0.3 | 0.12−0.15 | ≤99 |
This titanium alloy refers to a grade 7 of European titanium. It has physical and chemical properties identical to titanium grade 2. It has excellent welding properties. It is highly resistant to corrosion in an environment of concentrated acids. This makes it very valuable in chemical industry.
Hardening
Strength properties of titanium mill products can be significantly increased by mechanical hardening. Hardening is achieved by cold deformation of commercial titanium. It can be particularly high at a degree of deformation up to 40%. Mechanical hardening has a little hardening effect. Recrystallization leads to titanium softening. Degree of softening reaches 80% at the end of recrystallization.
Supplier
«Auremo» supplier
offers to buy European titanium by wholesale. There is a wide range of goods in stock. They are compliant with GOST and International Standards of quality. Titanium grade 7 strip, foil are always in stock. You can buy goods for an affordable price
from titanium grade 7 strip, foil supplier. Buy titanium grade 7 strip, foil right now! Titanium grade 7 strip, foil price is privileged for wholesale customers.
Buy at a bargain price
«Auremo» company is a titanium grade 7 strip, foil supplier to countries of Eastern and Central Europe. Experience of our company allows you to easily buy strip, foil of titanium grade 7. A quality complies with GOST (all-Union State Standards) and International Standards. A wide selection of products is presented in a catalog. Strip, foil made of titanium grade 7 are always in stock. A price depends on order quantity and additional conditions of supply. Titanium grade 7 strip, foil price is privileged for wholesale customers. We are working with experienced managers who can help to buy titanium grade 7 strip, foil by wholesale. We have the best price-quality ratio. We invite you to a partnership. There is the best price from a supplier.